NATURAL GAS
For Your Business
NATURAL GAS
For Your Business
At York County Natural Gas, we understand that energy costs can be one of the major factors in a company's decision to expand or relocate. We are committed to providing our customers with cost-effective, clean and reliable energy for your business needs.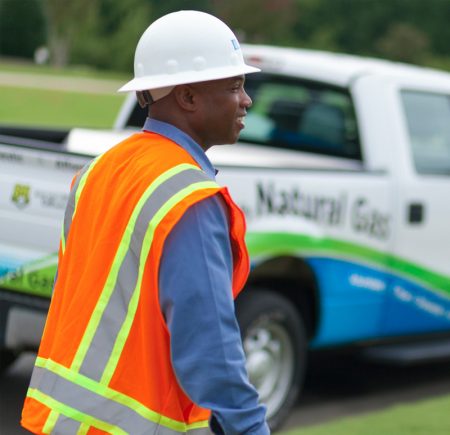 Business Development Services
We have the construction resources you need to get natural gas to your next project. We're here to support you from installation services to meter placement and efficient gas appliances.
Contact us for assistance in bringing natural gas service to your development.
We'll help with:
The application process and procedures
Coordinating site plan reviews with our engineering team
Determining the appropriate sizing requirements
Scheduling throughout the project
Arranging for meter sets to be completed (typically within 72 hours of your call, excluding weekends and holidays).
Industrial Customers
To inquire about the availability of natural gas to your industrial site call Business Development at (803) 323-5455 or email us. We will respond to your request as quickly as possible.
Service Lines
York County Natural Gas Authority will normally extend service lines up to 300 feet provided central heating system (gas pack or central furnace) and water heat are installed.
If the service line requires directional borings, creek, bridge or railroad crossings, or any other obstacle, then it is not considered a normal service line and may require aid-in-construction fees. A service line request may be denied if these obstacles prove to be physically or financially prohibitive.
For any request beyond 300 feet, an aid-in-construction fee will be charged.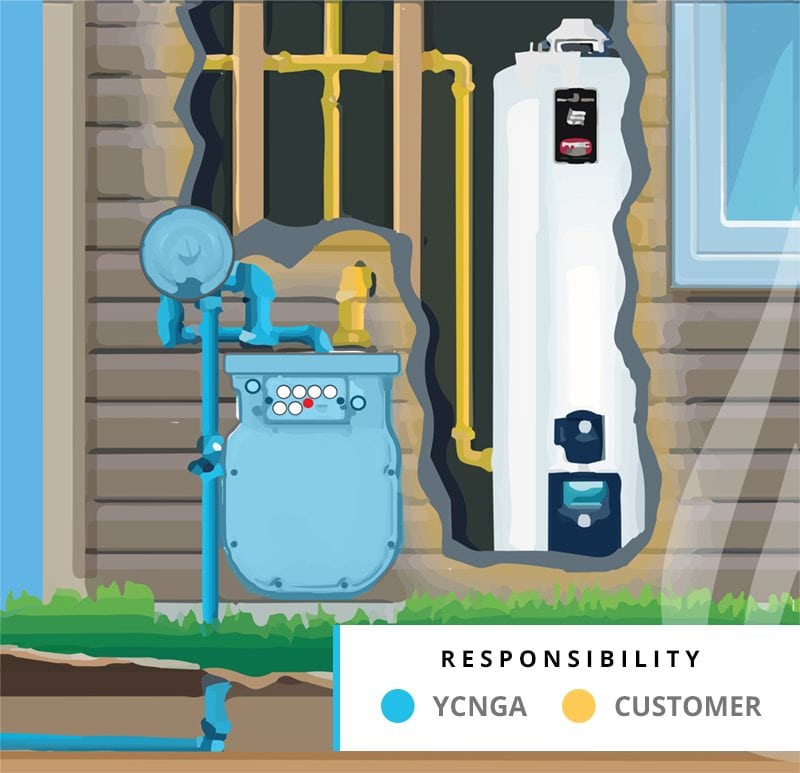 Meter & Piping Information
Standard Residential Meter Set
YCNGA is prohibited from installing a meter without evidence that the piping has been tested, inspected and approved in accordance with the appropriate codes. The installation of the house piping is subject to inspection and approval by an authorized representative of the municipal or county regulatory agency having jurisdiction.
House Piping
The term house piping refers to pipes installed between the meter and each natural gas appliance located in the home. The customer is responsible for the installation and maintenance of all piping from the meter to your natural gas equipment (i.e. space heater, water heater or stove, etc.). YCNGA is licensed to install house piping to any appliance that we sell. Please contact our Sales and Installation Department for additional questions regarding house piping.
Business Contact Information
Natural Gas
Industrial Service
York County is known for its commitment to promoting business growth and expansion while offering economic opportunities and efficient energy sources.
The Authority works diligently to provide natural gas service to any industry interested in locating to our service territory. Mains may be extended to serve prospective industrial sites with a qualifying load.
To inquire about the availability of natural gas to your industrial site call Engineering Services at (803) 323-5334 or email us.
Industrial Parks
in York County
All current industrial parks in York County are served with natural gas. For the locations of Industrial Parks in our service area click here.
Westgate
Industrial Park
Our commitment to the communities we serve and to prospective industrial customers is clearly demonstrated by the development of the Westgate Industrial Park in Clover, SC.
130 acre Westgate Industrial Park
Located adjacent to SR 321 outside of Clover, South Carolina
Easy access to Interstate 77 and Interstate 85
32 miles to Charlotte Douglas International Airport
Restrictive covenants protect the character of the park and its occupant's investment
A quality work force with specialized training available in nearby Rock Hill at York Technical College
Five acre lots and up
The Clover School District is recognized as one of the best in the southeastern United States
Beautiful Lake Wylie and a sedate country setting are a contrast to nearby Charlotte
Charlotte provides a multitude of cultural and social activities as well as professional football and basketball
The Port of Charleston, Blue Ridge Mountains and the gorgeous South Carolina coast are all within a 3-hour drive
Land is reasonably priced
CERTIFIED READY SITES
Bellycastle Dr @ US Hwy 321, Clover, SC