For 60 years York County Natural Gas Authority (YCNGA) has provided residential, commercial and industrial gas service throughout York County, South Carolina. In April of 2010, YCNGA added the Town of Blacksburg.
MISSION STATEMENT:
Our mission is to provide for the safe and reliable distribution of natural gas throughout our service territory in accordance with our enabling legislation, while striving for excellence in customer, community and employee relationships.
We invite you to learn more about YCNGA, our mission and the advantages of using natural gas.
Service Territory
Our service area includes all of York County and the Northeast portion of Cherokee County. Service is not presently economically feasible in all rural areas, but is generally available in and around Rock Hill, York, Clover, Fort Mill, Tega Cay, River Hills, Smyrna, McConnells, Sharon, Hickory Grove and Blacksburg.
Most densely populated residential subdivisions have service, as do all industrial parks in York County.
YCNGA currently has over 1,600 miles of distribution mains and serves over 63,000 customers.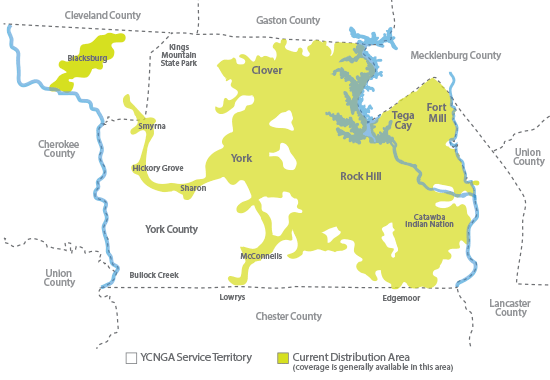 Business Structure
YCNGA was created by Act of the South Carolina General Assembly in 1954. It is therefore a political subdivision of the State that operates as a not-for-profit corporation and is governed by a ten-member Board. The Board is appointed by the Governor based on recommendations from the York County Council and the councils of the municipalities served. YCNGA is authorized to issue Revenue Bonds to finance expansion. All borrowing must be repaid from system revenues. YCNGA is not authorized to levy or collect any form of taxes and may not pledge the faith and credit of any other government entity.
All net revenues that have not been pledged, covenanted or contracted for other uses, must be used to expand the system or reduce customer rates.
YCNGA Board Meetings
The Authority is governed by a 10-member Board who meet regularly to discuss operations of the gas company. Meetings are typically held monthly and are open to the public.
THANK YOU SO MUCH… I don't believe we really appreciate turning on a faucet to hot water until it's not available.  Your service man was very informative as well as nice. Thank you again for the customer service and taking care of my concern.
I want you to know what a fine young man you have in your employee, Jon. I feel like he needs a "shout out" because he was so well mannered, kind and knowledgeable.
Education Programs
Free Field Trips and Resources for Teachers
We're committed to educating our youth and providing materials to enhance the classroom experience. Find out more about our sponsored field trips and FREE resources available for the classroom, as well as links for online games.