What it means to Go Tankless
When you go tankless you lose the holding tank that constantly heats water, even when you're not using it. Tankless water heating systems are often referred to as "on demand", meaning they heat incoming water only when you need it. A powerful heat exchanger is activated by the incoming flow of water and is heated to a preset temperature that you control. This compact unit, the size of a carry-on suitcase, can be mounted almost anywhere you choose, inside or out.
Advantages of a Tankless Water Heater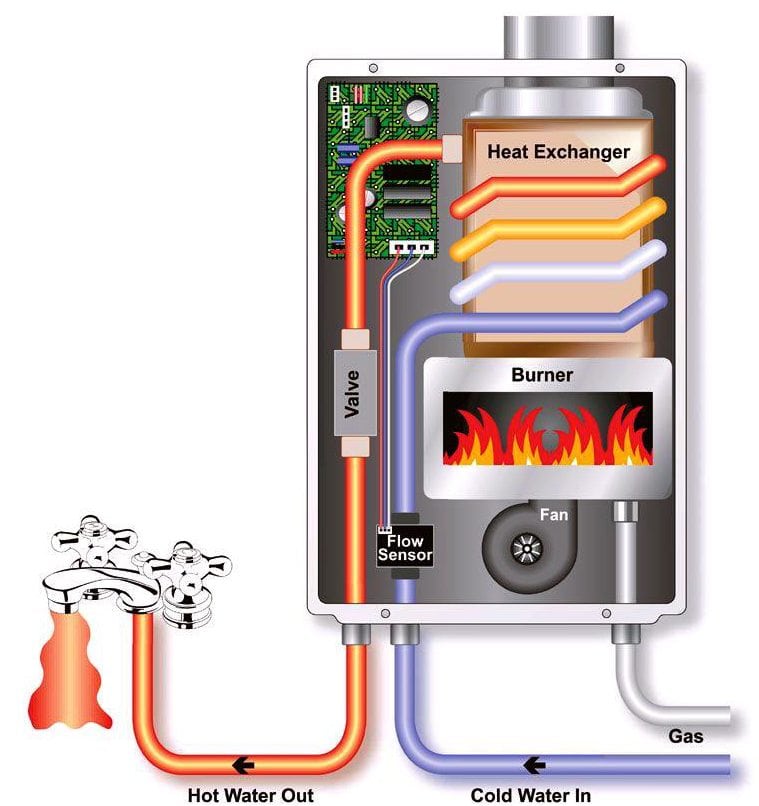 How Tankless Works
A gas tankless water heater is an efficient appliance that uses a heat exchanger to heat water only when it's needed, which can help you save on your energy bill.
Hot water is turned on.
Water enters the appliance.
The water flow sensor detects the water flow.
The computer signals the burner(s) to ignite.
Water circulates through the heat exchanger.
The heat exchanger heats the water to the designated temperature.
When the tap is turned off, the unit shuts down.
Tankless Maintenance
Keep your tankless running efficiently with a check-up and flush. Ongoing maintenance helps keep your heat exchanger free from scale buildup which impacts the efficiency of the unit and it's lifespan. ALL water heaters, tank or tankless can have scale buildup over time. The good news is a tankless flush will quickly clean the buildup and lengthen the life of your appliance.
Tankless Check-up and Flush $149
Schedule your service by calling (803) 323-5304.
If you have an external tankless unit, service can be performed without a technician entering your home.  For those with internal tankless units, service may be scheduled for a future date with a secured discount on the rate.
Please note: A pre-installed drain kit is necessary to run the flush service. YCNGA installs a drain kit as part of our standard installation, but other installers may not.  If your unit does not have a drain kit one can be installed and a flush run for $350.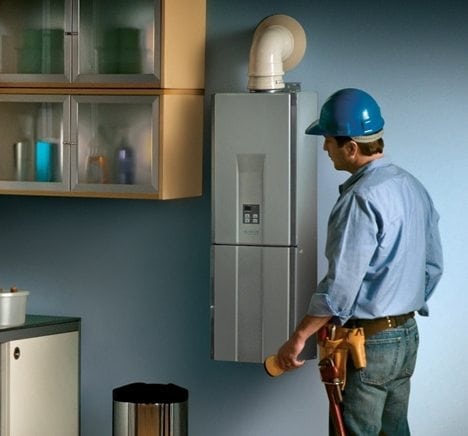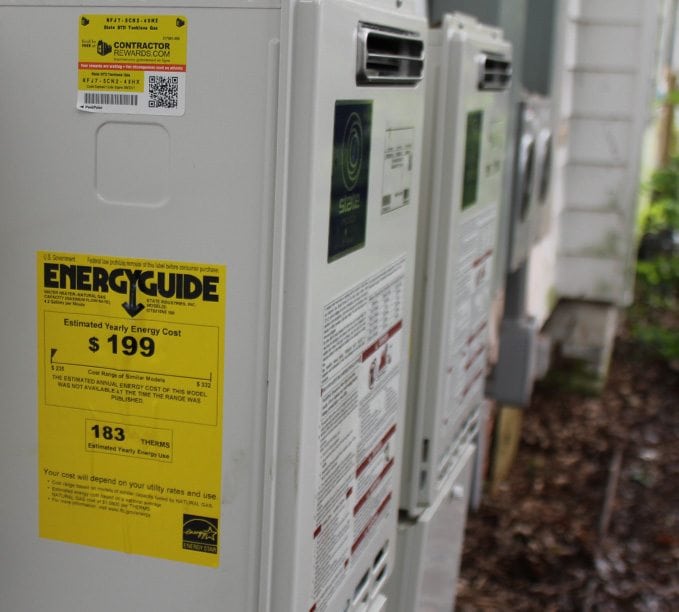 Protect your Exterior Mounted tankless unit during a power outage
Freeze protection comes standard on all Rinnai Tankless Water Heaters. As long as there is both power and gas supply to the appliance, freeze protection guards against outside temperatures as cold as -22°F (‐30°C) for indoor models, or as cold as -4° F (-20° C) for outdoor models when protected from direct wind exposure. Because of the "wind-chill" effect, any wind or circulation of the air on the unit will reduce the effectiveness of freeze protection.  
The freeze protection features will not prevent the external piping from freezing. It is recommended that hot and cold-water pipes are insulated. Pipe cover enclosures may be packed with insulation for added freeze protection. In the event of a power failure at temperatures below freezing, the water heater should be drained of all water to prevent freezing damage.  In addition, drain the condensate trap and drain line. NOTE: Water can freeze inside the water heater and result in a ruptured heat exchanger and water lines. Warranty does not cover any damage due to freezing.
If the Rinnai unit or the external piping has frozen, do not operate the tankless water heater.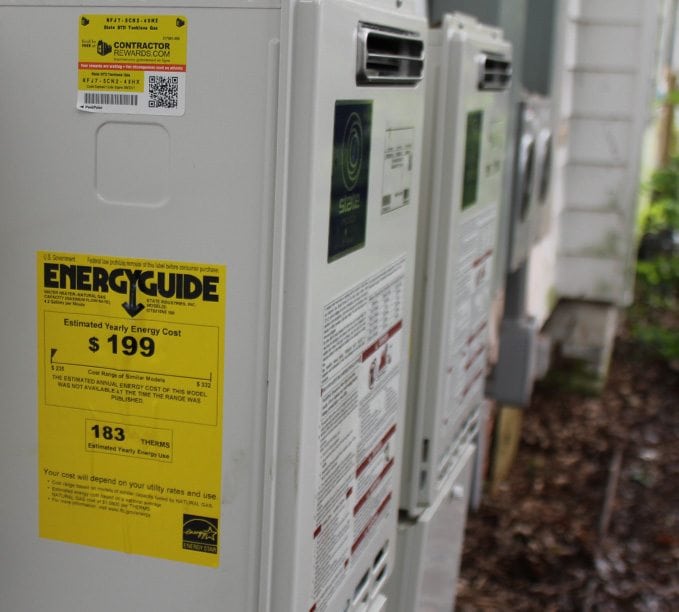 Tankless Commercial Condensing Model
Commercial Condensing Tankless (individual) or Installed on Rack Systems
Offering 96% thermal efficiency, the Rinnai Commercial tankless models feature a heat exchanger designed for the demands of business which helps maximize the life of the product and ensure smooth business operations.
Working only on-demand, the 199,000 BTU model operates more efficiently than tank-style water heaters to save on capital and life cycle costs.
Available individually in space-saving indoor and outdoor models, the Commercial Energy Star certified C199 also comes standard on Rinnai's Tankless Rack and Wall Mounted System providing safety and security through the redundancy of multiple units that ensure continuous operation.
The tankless rack system is the perfect boiler replacement
Offering a reliable and more efficient source of hot water, Rinnai Tankless Systems supply commercial buildings with an endless supply of hot water and savings up to 40% over traditional systems*.
Provides 96% thermal efficiency
Can be installed easily on wall, in a corner or as a free-standing unit
Multiple tankless units create built-in redundancy
System can be scaled up as business needs change
Easy to repair – all parts are replaceable
Longer lifespan and better warranty
* As based on the average cost to run an electric tank water heater per the Department of Energy (DOE) Average Energy Costs (doe.gov)
Rinnai Demand Duo Hybrid Water Heating System
The dynamic Demand Duo™ is the perfect solution for direct replacement of most traditional commercial standard and high efficiency tanks. The Demand Duo provides hot water performance for peak demand, with a supply that goes the distance. Combining the on-demand, continuous supply of tankless with a 119-gallon tank, condensing technology produces consistent water temperatures for smooth business operations and multiple venting options offer installation flexibility. The Rinnai Demand Duo is a master multi-tasker and backed by Rinnai's nearly 100-year reputation of quality and reliability with a 6-year HEX and Tank warranty*.
The Demand Duo can also tie into a building management system sending alerts when the system needs attention providing peace-of-mind monitoring protection to put the efficiency and performance of your hot water on cruise control.
Why choose the Rinnai Demand Duo?
The Demand Duo is the smart choice offering the "best of both"  for  on demand and continuous hot water.
Durable, energy-efficient 119-gallon storage tank
Ideal for emergency replacement situations
Offers more water-heating capacity than a traditional tank
A direct replacement solution with connections similar to most high-efficiency tanks
Saves money with less energy cost vs. standard efficiency water heaters
Easy to repair – all parts are replaceable
Longer lifespan, 2x the warranty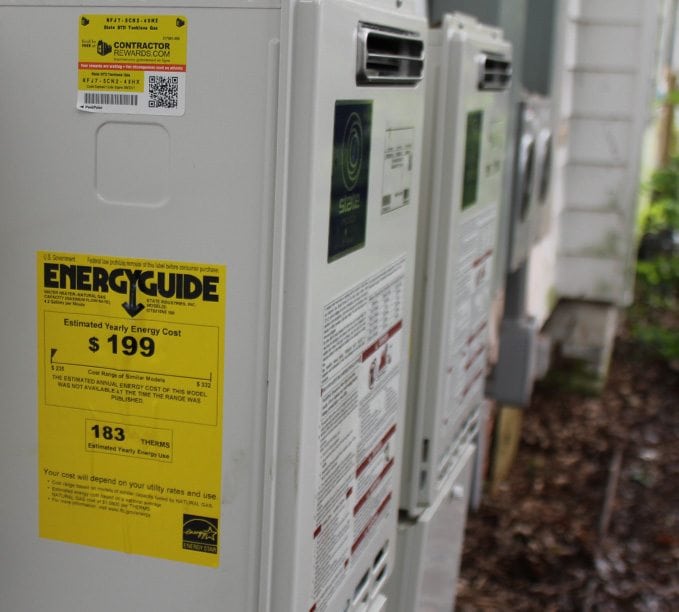 Engineering & Architectural Resources
Product Specifications & Technical Documents
Residential Revit Drawings & CAD Files
Commercial Revit Drawings & CAD Files
More Case Studies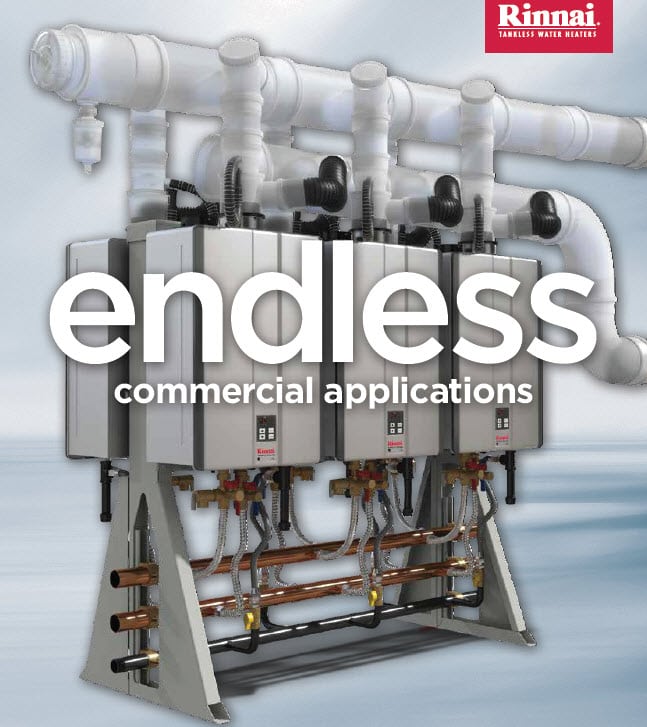 Commercial Water Heating Business Brochure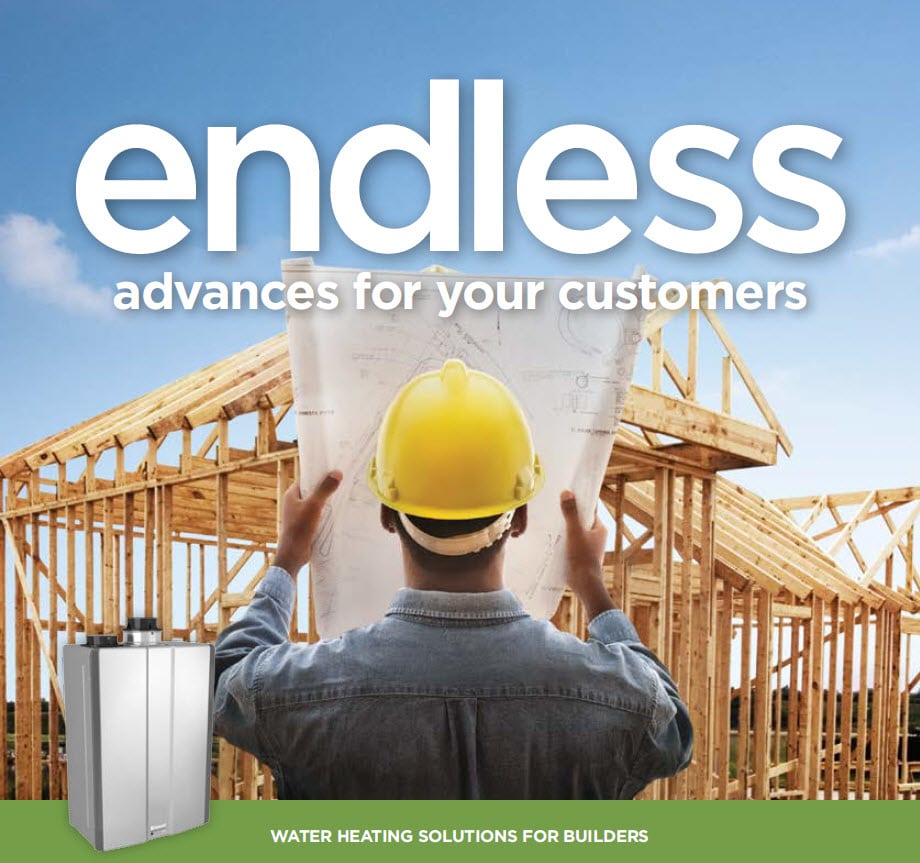 Builder Advantages of Tankless
Natural Gas Rebates & Tax Credits
for Tankless Water Heaters
Incentives that make energy efficiency even more attractive and attainable
Available Rebates / Tax Credits:
Rinnai REP160  »  Efficiency: 0.81 »  Manufacturer Rebate: N/A »  YCNGA Incentive: N/A   »  YCNGA Residential Conversion Rebate: $400  »  Energy Tax Credits: N/A
---
Rinnai REP199  »  Efficiency: 0.82 »  Manufacturer Rebate: N/A »  YCNGA Incentive: N/A  »  YCNGA Residential Conversion Rebate: $400  »  Energy Tax Credits: Y (see more)
---
Rinnai RUR Sensei  »  Efficiency: 0.96 »  Manufacturer Rebate: N/A »  YCNGA Incentive: N/A  »  YCNGA Residential Conversion Rebate: $400  »  Energy Tax Credits: Y (see more)
APPLIANCE
Rinnai REP160
---
Rinnai REP199
---
Rinnai RUR Sensei
ENERGY TAX CREDITS*
N/A
---
See Note Below
---
See Note Below
*Interest free financing available for qualified homeowners after 25% down
*Residential Conversion Program – when converting from another energy source to natural gas
*Tax credits may be available on certain Rinnai Tankless units with an Energy Factor >=0.82
>Download Rinnai Tax Statement
>YCNGA Rebate Program
YCNGA Tankless Water Heater  Residential Rebate
Switch to natural gas from another energy source and get a $400 rebate, applied to your purchase order. Ask your YCNGA sales representative for more details.
Interest Free Financing
We offer interest-free financing on tankless water heaters up to 36 months. Homeowners who qualify pay 25% down with the remaining balance placed on their monthly gas bill… interest-free!
Certain restrictions apply.  Ask a sales associate for more information.
Buy with confidence. We make it easy!
Our sales team completes all manufacturer rebate forms and product warranties for you!  We've been in the gas business for 60 years and we service what we sell.
To speak to a Sales Associate about any of our premium products, call (803) 323-5315