Blacksburg Renewal Project
Amy
York County Natural Gas Authority (YCNGA) will begin upgrading natural gas pipelines in Blacksburg later this summer.
This multi-year renewal project will upgrade the distribution system to enhance safety, reliability and integrity of the natural gas pipelines in Blacksburg.   Construction is anticipated to begin late August along Rutherford Street and Shelby Street and will be completed in phases to encompass all distribution and service lines in the Town of Blacksburg.  Beginning next year (2019) each phase is expected to take place from late spring to early fall.  Work will be performed between 8am – 5pm, Monday through Friday with minimal impact to traffic in work areas.
We are committed to providing timely and relevant information to our customers and the general public to minimize inconvenience or disruption due to construction activities.  Property owners affected by construction activities will be personally notified by mail and/or by door hangers with information regarding specific dates work will take place in their area.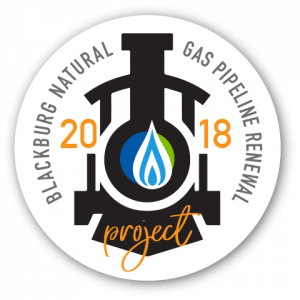 Project will take place in phases each year beginning in late spring and ending in early fall

Work will be performed between 8am and 5pm, Monday – Friday with minimal impact to traffic

Gas service will only be impacted when it is time to connect customers to the new gas system at their meter.

Customers will be personally notified when upgrades will be made on their street
2018 – PHASE I
S. Shelby Street
Rutherford Street (from W. Carolina St. to Pine Forest Drive)
Forest Haven Drive
Pine Forest Drive
Reynolds Street (between Shelby and Rutherford)
Ramseur St
Pennington Farm Dr
Hoke Street

FREQUENTLY ASKED QUESTIONS
We are upgrading the system as part of our obligation to provide safe and reliable natural gas service for our customers. This project will replace existing distribution mains and services with polyethylene plastic pipe, new meters for our customers, and state of the art technology for pipeline maintenance.  These upgrades will allow YCNGA to deliver the Town of Blacksburg with affordable and  clean natural gas for years to come.
As stewards of the environment, we take great care in implementing the best construction practices to protect trees and plants in your neighborhood. Any surface that must be disturbed will be repaired by YCNGA, including sidewalks, driveways, roadways, and landscaping.  We will complete yard cleanup as the project progresses, and perform final cleanup at completion of the project to restore the area to its pre-construction condition.
To minimize traffic disruptions, YCNGA will be using a technique called directional boring, when feasible, under roadways. Underground directional boring avoids the need for open trenches across roads and other surfaces. However, some streets may be closed during construction. If that is the case, we will work with the local officials to reroute traffic and/or notify residents.
No, existing natural gas service to homes and businesses will not be interrupted during construction. However, your service will be interrupted for a short period near the completion of the project when the new service line is connected to your meter.
If you have questions or need assistance, call customer service at 866-578-4427, option 1.  Representatives are available to answer your questions between 8:30am – 5:00pm, Monday – Friday.
To report a gas emergency call 866-201-1001, at any time day or night.
---
Please stay in touch
If you see a door tag or receive a call from York County Natural Gas please respond ASAP by calling 866-578-4427, option 1. It is important that we hear from you, as we are likely trying to set an appointment to test house-piping and safely restore natural gas service.
---
WHAT TO EXPECT WHEN SERVICE IS RECONNECTED
SAFETY CHECKS
Technicians will conduct safety checks when service is reconnected. In accordance with appropriate codes, we are prohibited from installing a meter without evidence that the piping has been tested, inspected and approved.
House-piping or appliances that do not pass a safety check and are out of code must be repaired by a qualified professional of your choice to ensure proper functioning and safe operation. House piping costs are not reimbursed by YCNGA. Once repairs are made to the piping or appliances and they pass safety checks, YCNGA can safely restore service.
YCNGA owns all piping from the gas main up to your meter. Any piping from the meter to your household appliances is owned by you. For more information on house-piping click here.
Now's a GREAT time to convert
to Natural Gas Appliances!
Get REBATES up to $925
Natural gas appliances are efficient and reliable, saving you money on your monthly utility bills.  We offer REBATES when you switch to natural gas from another energy source.  For a limited time, YCNGA is also offering REBATES to Blacksburg residents when they replace or upgrade their existing natural gas appliances.
 – – – – – – – – – – – – – – – – – – – – – – – – 
Natural gas furnace/central heating – $400
Natural gas water heater (tank or tankless) – $400
Natural gas stove top/range – $50
Natural gas clothes dryer – $75
 – – – – – – – – – – – – – – – – – – – – – – – –