Working Through the Coronavirus
Amy
Safety is Always our Priority!
Your Online Options During This Time
Like so many of you, we have spent the last several months learning about the coronavirus (COVID-19) and how it is impacting our community. As we continue to monitor the virus and the effects it could have locally, we are evaluating our business practices and our interactions with customers.
Our mission remains to provide safe, reliable and affordable energy solutions for the benefit of our customers, and in doing so we want to maintain a safe workplace to protect the health of our employees, customers and visitors.
Current Status of Service & Operations
Our Lobby is OPEN by Appointment
Customer Service (803) 323-5304
Sales (803) 323-5315
Drive-Thru is OPEN
for payments and service questions
8:30am – 5:00pm
Phone Lines are OPEN
8:00am – 5:00pm
Service Calls
All service calls are running under normal operating procedures.  Customers will be asked several COVID19 related screening questions before a technician is dispatched.  Technicians are wearing proper PPE and practicing social distancing for safety.
Appliance Sales
Our sales and appliance showroom is open by appointment. Customers wishing to shop for gas appliances should contact our sales team to request an appointment between 9am and 4pm.  To speak with a sales specialist call (803) 323-5315.  Many products can be viewed online. Sales team representatives are available to give quotes over the phone and answer questions from 8:30am – 5:00pm.  
---
Manage your Account Online
At this time, we want to remind you that there are many ways for you to do business with us online or over the phone. Our website offers 24-hour access to your online account where you can manage payments, update or change contact information, set up alerts and view your usage, billing history and payment history.
If you have not set up an account, we encourage you to take the next step. From our homepage, click on the Manage My Account block in the top image. Follow the directions for a 'new user'.  You'll need your account number which is found at the top right of your bill.
If you need assistance, please call customer service at (803)323-5304.
Billpay and secure account management is also available through the YCNGA mobile app, available for Apple and Android devices.  Download the app for free from your device's app store.
Additionally, payments can be made through our automated phone system – (803) 323-5306.
If you would like to make a payment in person, our drive-thru is open from 8:30am to 5:00pm.  If the drive-thru is closed, use our night drop box, located just before the drive-thru window, for check or money order payments only.
For customers who have a change in service, go to the Start / Stop / Change Service page on our website, under the RESIDENTIAL tab. After you complete the online form a customer service representative will contact you to verify the information.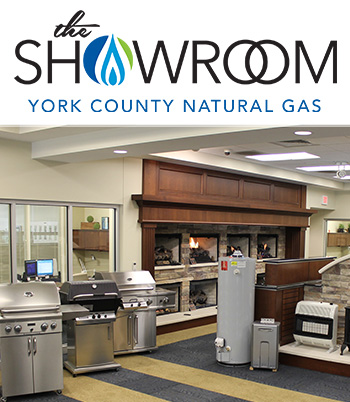 SHOP ONLINE OR IN-PERSON BY APPOINTMENT
If you are looking for a natural gas appliance, you can browse our selection of premium products online.  Once you've done your research our sales professionals will be happy to answer your questions over the phone.
Our appliance showroom is open by appointment.  If you would like to shop in-person, please call our sales team to schedule an appointment between 9am – 4pm.
Contact sales for assistance at (803) 323-5315  
Our employees are taking extra precautions to protect both our customers and themselves.
Our service vans and trucks are all supplied with hand sanitizer and/or wipes, which our technicians will use during, and in between service calls.
Safety is our priority. Our focus remains on delivering a safe and reliable source of energy. In the event of a natural gas emergency, don't hesitate to call us 866-201-1001, and/or call 911.
We will continue to monitor and adjust our response with guidance from health agencies and government officials in an effort to keep our customers, associates and community safe.