October is Grand Re-Opening Month
Amy
Grand Re-Opening – October 4!
Find your Flame
In the NEW Sales & Appliance Showroom
It's time to shop in-person and find your flame! Renovations are complete and the doors to the new natural gas appliance SHOWROOM are now OPEN!
October is Grand Opening Month… and we're celebrating with prizes, discounts and special hours. Visit in-person to experience the largest selection of natural gas fire features in the southeast.
---


October 4 – 29
VISIT IN PERSON and receive one scratch & win card (per household)
P R I Z E S   I N C L U D E: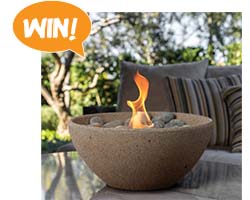 Tabletop Fire Bowl
Grilling accessories including grill covers, grill rotisseries, digital thermometers, grill tools
Chef's supplies – apron, oven mitt, grill brush
Picnic blankets, umbrellas & more
Discounts of 20% off up to $500 off your purchase!
while supplies last…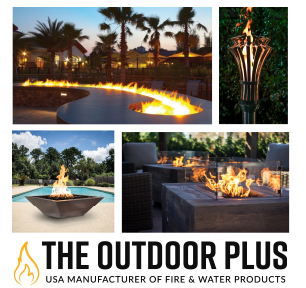 OCTOBER 6 | THE OUTDOOR PLUS PATIO FIRE FEATURES
The Outdoor Plus is a leading innovator in fire and water features. Their products are the ultimate combination of beautiful design, state-of-the-art technology, amazing functionality and superior quality of construction.

OCTOBER 13 | NAPOLEON GRILLS
You'll never want to cook indoors again once you experience a Napoleon gas grill.  Made of high-quality stainless steel, Napoleon grills lead the way with stunning design and innovative technology.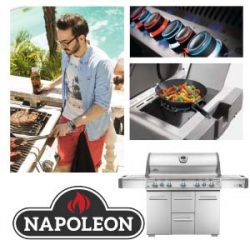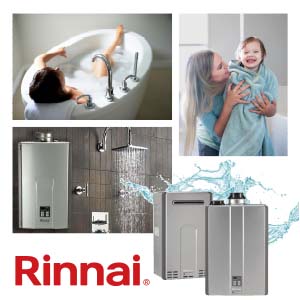 OCTOBER 20 | RINNAI TANKLESS WATER HEATERS
More people choose Rinnai than any other tankless water heater brand for their quality, reliability and warranty. Visit the Rinnai trailer and find out how switching to endless hot water may be the most efficient solution to your water heating needs.  Plus, if you're switching to natural gas from another energy source you could be eligible for a $400 rebate!

OCTOBER 27 | FIREPLACE FEATURES from Empire & Monessen
It's fall and that means cool nights and warm fires. Cozy up to the top manufacturers in clean and convenient gas logs and fireplaces with Monessen and Empire – White Mountain Hearth products.  Visit the Empire trailer and get details on the latest technologies.  Experience the modern styles and linear options to compliment any decor.  Vented, Vent-Free or Free-Standing options.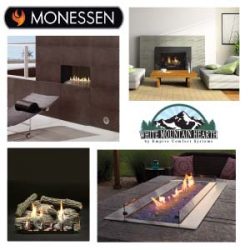 HIGHLIGHTS OF THE RENOVATED BUILDING
THE STEPHENSON ADMINISTRATION CENTER
In 2019, YCNGA began renovations of the building which had been built in 1942 for the former Pepsi-Cola plant.  The Authority originally purchased the Greek Revival style building in 1985 and moved in after renovations were completed the following year.  When the building was repainted it's well-known 'gas company' blue, the Authority had 40 employees with plenty of room to grow.  After 34 years and an employee roster over 120, a decision was made to renovate and preserve the original structure to create additional office space.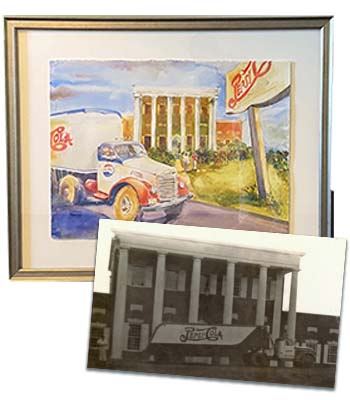 The Showroom
Natural Gas Appliance Sales Center
The newly renovated building features a spacious 5,300 square foot, state-of the art sales and appliance showroom.  You'll now find displays that include both vented and unvented gas logs, along with a large selection of stand alone fireplaces and space heaters.  Experience centers located throughout the showroom feature natural gas appliances in homelike settings promoting the advantages of using natural gas in the kitchen and laundry. With the additional space we're now able to feature gas lanterns from Legendary Lighting.  The highlight of the renovated building is the expanded patio area with the latest in outdoor living including a full outdoor kitchen, fireplace, tiki torches, fire bowls, fire pits/tables and even a fire fountain.
In addition to residential offerings, the new facility was designed with commercial high-efficiency natural gas technologies including a Yanmar Gas-Powered Heating & Cooling system (GHP), and a Rinnai Demand Duo tankless water heating application visible through glass doors in the lobby.

The residential sector uses natural gas to heat buildings and water, to cook and to dry clothes, but the industrial sector is the largest consumer of natural gas and relies on it as a base ingredient for many manufacturing processes.  As a clean-burning fuel alternative, natural gas plays a role in the creation of products you use every day, from cosmetics to clothes, cars and consumer goods.
Several of our top industrial customers are highlighted in the Showroom along with the products they produce right here in York County.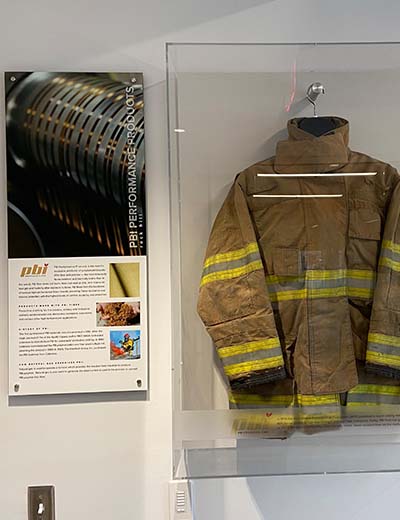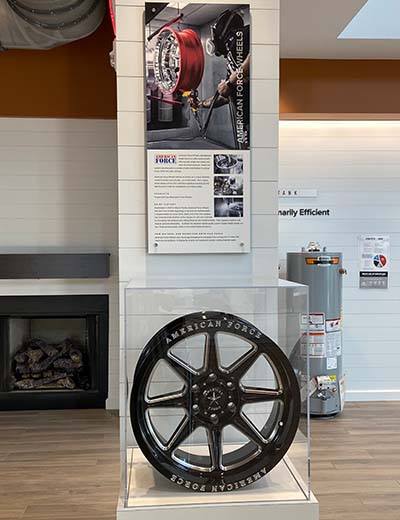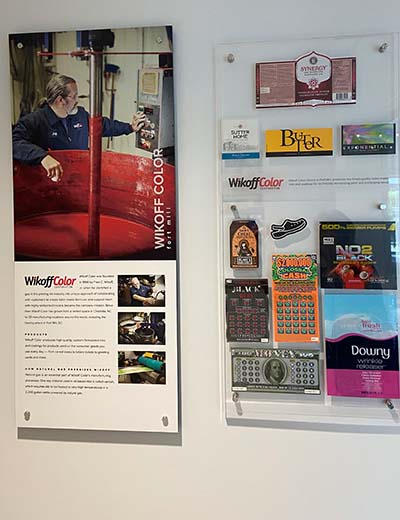 WHAT TO EXPECT WHEN YOU VISIT
the Showroom
located in the Stephenson Administration Center | 979 West Main Street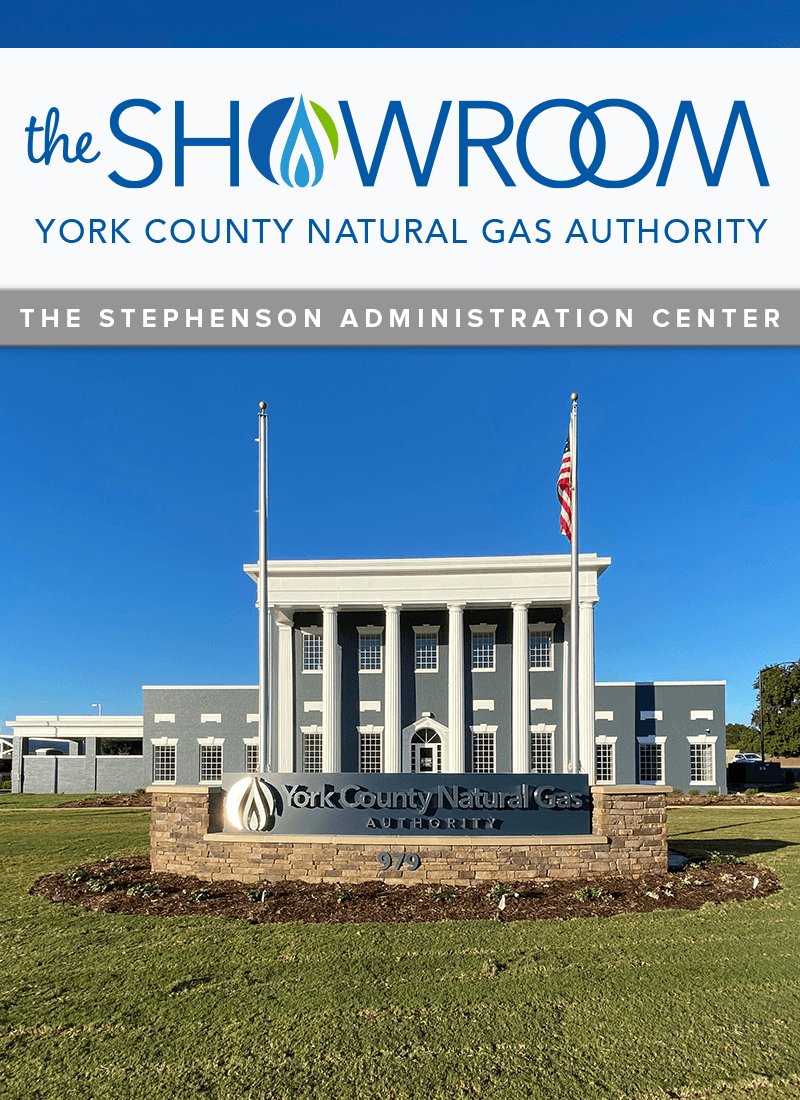 Hours: Monday-Friday | 8:30am – 5:00pm
Open until 7pm on Wednesdays only in October
The new appliance and sales Showroom is located at the corner of Cherry Rd and West Main Street in the newly renovated building. When you enter the building, sign into the kiosk to the left of the door and a sales employee will come out to greet you.  Shop for gas logs, fireplaces, water heaters (both tank & tankless), space heaters, gas lanterns, grills and outdoor fire features.  In addition to sales, the Stephenson Administration Center provides office space for administrative staff, marketing and business development.
The sales team in the new appliance sales showroom will not be able to address customer accounts.  All account inquiries should be made at the drive-thru of the Customer Service Building at 965 West Main Street (next door to the sales showroom), or by phone to (803) 323-5304.
the Customer Service Center
located at 965 West Main Street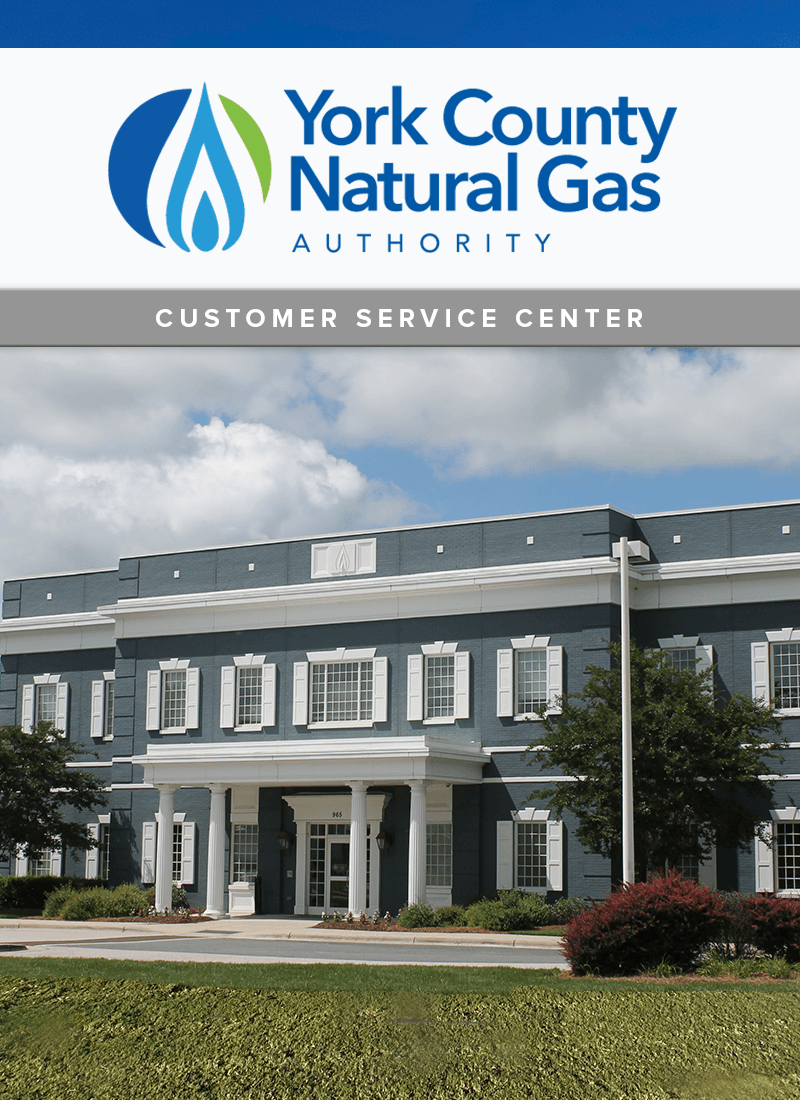 Drive-Thru Hours: Monday-Friday | 8:30am – 5:00pm
lobby is closed to walk-in visitors
call (803) 323-5304
All customer service  inquiries and bill payments will continue to be handled in the Customer Service Center at 965 West Main Street. The lobby is open by appointment only, however the drive thru is open daily for payments and questions.  Account management is available 24/7 online, by phone or through the Authority's mobile app. The lobby is open by appointment only, but payments and questions regarding accounts can be handled at the drive-thru located on the left side of the building.
---
Since its creation in 1954 by an act of the General Assembly of South Carolina, the Authority has always had a direct tie to the community and continues to serve the citizens of both York County and Blacksburg, SC by meeting the ever increasing demand for natural gas service.  As growth in the region continues to create monthly records for natural gas usage, the Authority is well equipped to support the growth with a highly trained and customer friendly staff.  We are a locally operated utility.  That means our employees are your neighbors.  We look forward to welcoming you back to an in-person shopping experience at the new Showroom at York County Natural Gas Authority!